A Special Offer for Context.io Customers: One Year of Nylas Free!
We're here to help facilitate your transition with trust and ease
Tasia Potasinski | January 22, 2019
Late last year, Google announced new security measures to give Gmail users more control over what data is synced and shared with 3rd-party developer applications. In light of these updates, Context.io announced they would be ending their services connecting Gmail accounts to software applications.
At Nylas, we're proud to offer Context.io customers a secure, compatible solution to Context.io's email API with even more features. In addition, Nylas will extend one year of services free to all Context.io customers who transition during this process.*
We created this guide to illustrate the compatibility between the two and to help with the transition process.
Context.io and Nylas Compatibility
Nylas has many of the same product offerings as Context.io, and a few more. Both products provide bi-directional email sync and full CRUD with any inbox, but Nylas also allows developers to securely connect to calendar and contacts data.
The core features of Nylas include:
Connect to any email provider. The Nylas API connects your application to Gmail, IMAP, Office 365 or Microsoft Exchange, AOL, Yahoo, and all the rest.
Sync calendar and contacts data. In addition to email, Get full CRUD features for the entire inbox (email, calendar, and contacts).
Power email tracking and analytics. Seamlessly monitor open rates, link clicks, and replies.
Increase customer retention and acquisition with high-value email features that your customers will love.
Rest easy with enterprise-grade security and privacy. It goes without saying that we never sell your data, and we never will; but beyond that, Nylas is SOC 2 certified, Privacy Shield Certified, and GDPR compliant. See more on our security page.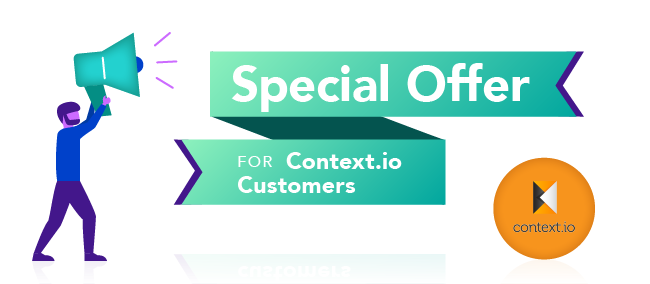 Technical FAQ
1) How easy is it to move from Context.io to Nylas?
The APIs are both REST-oriented and very similar. Nylas also provides SDKs which make it easy to build integrations quickly.
2) I use Context.io's Connect token wizard. Do I have to build an authentication flow myself now?
No — you can use Nylas's hosted authentication flow for that, which takes care of handling passwords and tokens securely.
3) How long does it usually take to build an integration with Nylas?
It varies depending on how each app is architected, but most customers tell us the total build takes between 2 weeks and 2 months.
4) My app relies on webhooks. Does Nylas support them?
Yes! Nylas supports all the webhooks Context.io has and more!
SDK support
With Nylas's idiomatic SDKs for Ruby, Node JS, and Python, you can quickly integrate Nylas into your app while maintaining code quality. For more information, visit our developer section here.
Next Steps
With Nylas, you can get started building an email integration with just 4 lines of code.
Take a look at our docs and chat with a platform specialist here.